Congratulations
Class of 2020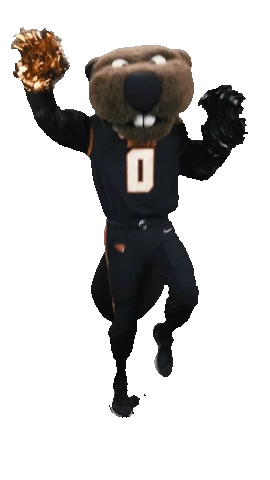 13 June 2020
Dear OSU Class of 2020,
Congratulations!
This day marks a big milestone and we share in the pride and joy you are feeling. The completion of your degree represents years of your hard work and determination, especially over the last two months.
You and your fellow alumni are OSU's most important and enduring contribution to the world, and all of Beaver Nation celebrates your achievements.
Please enjoy celebratory messages from President Ray and others. We still hope to hold an on-site ceremony for the Class of 2020 in the fall, when travel and large group events are safe. Visit this site again for updated information.
Again, congratulations! You made it. Go Beavs!
Please enjoy these messages of congratulations
from more members of OSU leadership:
Below are special messages from college deans and others, links to college-specific celebration pages, and inspiring stories about some of your fellow 2020 graduates.
We're So Proud of Our 7,181 Graduates!
Below are just a few of the incredible students who have completed their degree this spring.
Ammara Molvi
H.B.S. Public Health
A well-rounded and involved Oregon State community member, Ammara Molvi has dedicated her time and efforts to improving the Corvallis campus through research as a pre-med public health student and work as an honors biology learning assistant, coordinator of wellness affairs for ASOSU and media assistant for the Honors College. She is also an active member of the Pakistani Student Association, Muslim Student Association and the Student Health Advisory Board. After graduation, Ammara will be pursuing a Ph.D. in public health and M.D. through a joint M.D./Ph.D. program to further study and explore issues she has researched during her time as an undergraduate. Of her OSU honors experience, Ammara says, "I'm most proud of all that I've learned and what I'll carry with me through life."
Carly Loving
H.B.S. Civil Engineering
Building Lego houses as a little girl was Carly Loving's ('20 H.B.S., Civil Engineering) first venture into engineering. Next was drawing floor plans for her dream house. Primed by an engineering-focused high school curriculum, this math and architecture enthusiast dove into the College of Engineering's wealth of resources, including multiple internships and student clubs, and the Honors College's curriculum. She even personified those activities by becoming the College of Engineering's lead student ambassador. "Helping a prospective student realize they could have a future in engineering is tremendously rewarding," she said. With an eye on becoming a structural engineer, Carly plans to jump straight into grad school, then on to a career building and restoring bridges to ensure that Oregon's infrastructure remains safe and reliable.
Adam Rateb
B.S. Business Administration
B.S. Human Development and Family Sciences
Enthusiastically involved in the Oregon State community, Adam is a student-athlete and the community service representative for the OSU Wrestling team, the Vice President of the OSU chapter of the NAACP, and an employee at the Lonnie B. Harris Black Cultural Center. Additionally, Adam is an active member of the Distinguished Scholars Initiative, Black Student Union, Student-Athlete Advisory Committee, African Student Association, Muslim Student Association, Ettihad Club, and is a Student Peer Facilitator for OSU and the Black Cultural Center.
Following the completion of his dual degrees, Adam hopes to pursue his MBA at Oregon State University. Inspired by topics of race and culture, Adam's dream is to one day open a community center for tutoring, mentoring, and sports for underprivileged high school students in his hometown of Oakland, CA.
Jordan Baxter
B.S. Electrical and Computer Engineering
Jordan Baxter of Bend, a Navy veteran who will graduate summa cum laude in electrical and computer engineering, made supply runs for neighbors, putting up a sign at his apartment complex offering to go to the store for people who had been advised not to leave their homes. He provided wet wipes so those he shopped for could disinfect the items. Baxter has a job lined up at a consulting firm in Bend but his start date may be delayed by a mobilization of his Naval Reserve unit. See full story.
Christopher Wilson
B.S. Business Administration
Chris's undergraduate journey at Oregon State University has been nothing short of successful. As a supply chain and logistics management major, Chris completed hands-on research for the State of Oregon procurement offices. Furthering his involvement, Chris was a student success peer facilitator at the Lonnie B. Harris Black Cultural Center, served as a senator for the 79th ASOSU Senate, and is chair of the United Black Caucus.
Saray Valdez-Hernandez
B.S. Earth Sciences: Climate Science
For senior Saray Valdez-Hernandez, what started as an interest in meteorology has transformed into a passion for delving deep into the climate of the past, a field of science known as paleoclimatology. Financial support allowed her to participate in research including a study using an ocean sediment core containing 20,000-year-old microfossils. Saray began her OSU journey with help from the College Assistant Migrant Program, which supports students from migrant and seasonal farmworker backgrounds during their first year of college. She later returned to the program as a mentor and then became a CEOAS student ambassador, relishing the opportunity to tell prospective students about everything Oregon State has to offer. Saray has always worked a part-time job while pursuing everything college had to offer with dedication and determination, from marching and pep band her freshman year to later shifting her on-campus time to a research and summer REU's beyond. She utilized every tool presented to her to make her college experience and dreams happen (Degree Partnership Program, Educational Opportunities Program, College Access Migrant Program, Research Experience for Undergraduates, career advisors, academic advisors, faculty mentors, and the list goes on).
Isis Lowery
B.S. Human Development and Family Science
Throughout her four years on the OSU Women's Gymnastics Team, Isis earned Pac-12 All-Academic honorable mentions in 2018 and 2019, and was named to the Pac-12 Academic Honor Roll for Winter 2020. Additionally, as a gymnast, Isis earned Pac-12 second-team honors and All-America honors on floor exercise in 2019.
"Throughout my time here at Oregon State, I am most proud of my personal growth as a student-athlete, but more so as a young woman. Without support from student-athlete development, my coaching staff, and various other support systems including academic advisors and the BCC, I would not have grown into the woman I am today. I am happy to announce that I will be furthering my studies here at OSU, as I pursue a Masters Degree in Education this Fall, as well as volunteering as a student assistant coach with the gymnastics team. Forever and always, GO BEAVS!"
April Davenport
B.S. Apparel Design
B.S. Merchandising Management
As a double major in apparel design and merchandising management, April created the company Crutch'n It, which spawned from her national award-winning submission to the American Association of Textile Chemists and Colorists and Runway of Dreams annual student design contest. This contest challenges college students to design especially for the disabled community. Crutch'n It produces stylish fabric covers for forearm crutches. April's passion for Crutch'n It came from her experience living with complex regional pain syndrome which sometimes requires her to use crutches for stabilization and mobility, and her desire to give others like her a chance to express themselves.
Dustin Diep
H. B.S. Industrial Engineering and Manufacturing Engineering
Dustin Diep envisions a world where future generations continue to thrive. His double degree program has provided him with the opportunity to improve a wide array of processes and systems to invent the future of his dreams. Combined with his leadership experience as an officer for the OSU Robotics Club and the Institute of Industrial and Systems Engineers, Dustin is well prepared to create a better future for many years to come.
Ido Almog
B.S. BioHealth Sciences
While completing his undergraduate degree in BioHealth Sciences at OSU, Ido participated as an undergraduate research ambassador, conducted extensive research on aging in the lab of biochemistry, and was President of the Pre-Dental Club. Following his undergraduate successes, Ido has gained admission to the School of Dentistry at OHSU.
Dominique Holman
B.S. Bioengineering
Pursuing her passion for mathematics and the human body, Dominique will graduate in 2020 with a degree in bioengineering. Dominique's involvement at OSU has been substantial, holding leadership positions in the Black Student Union, the National Society of Black Engineers, the Sigma Delta chapter of Alpha Kappa Alpha sorority, as well as working at the Beaver Hangouts Program and the Lonnie B. Harris Black Cultural Center.
"Post-graduation, I will be pursuing a job to work in a pharmaceutical company where I can work as a bioprocess engineer in the development of personalized cell therapy medicine. I have learned a lot during my college career, but the most valuable lessons I've learned were never in the classroom. I used my time in college to gain incredible connections with individuals who have guided me along the way and will always be apart of my life. I would not be graduating without the unconditional support I felt from my family, friends, and mentors. Black Lives Matter."
Lourdes Rodriguez
B.S. Education
B.S. Human Development and Family Sciences
Growing up as an English learner, Lourdes has been resilient in pursuing a college degree. Upon being accepted to OSU, Lourdes utilized CAMP and EOP to find support. Using her dual-language background, Lourdes served as a student-teacher at a dual language school where she was able to experience firsthand the importance of embracing students' language and culture.
Ni Trieu
Ph.D. Computer Science
Ni grew up in Vietnam and received a scholarship to do her undergraduate studies in Russia at St. Petersburg State Polytechnic University. During her time there, she developed an interest in theoretical computer science, including cryptography, which she describes as a bridge between theory and practical applications.
Once at Oregon State University, Ni studied cryptography and security. Her work has been published in top-tier cryptography and security conferences. Ni spent several summers as a research intern at Bell Labs, Visa Research, and Google. She is currently a postdoctoral researcher at the University of California, Berkeley, and will be joining Arizona State University as an assistant professor next year.
Trenton Joiner
H.B.S. Bioengineering
Minor, Exercise Physiology
Graduating with an honors bachelor of science degree in bioengineering with a minor in exercise physiology, Trenton didn't hold back from taking hold of his college experience. In addition to working three years at the Lonnie B. Harris Black Cultural Center, Trenton was an active member of the National Society of Black Engineers, Distinguished Scholars Initiative, and the NAACP.
A natural leader, Trenton served as the Treasurer and Chapter President of the Gamma Upsilon Gamma Chapter of Phi Beta Sigma Fraternity, served as an LSAMP mentor in the Black Student Union, and served as the Director for Diversity Initiatives for ASOSU.
Alexis Young
B.A. Fine Arts
Alexis Young, 25, of Lincoln City, will be graduating with a degree in fine arts. Last March, a house fire left her and her roommates scrambling for housing and destroyed almost all of her accumulated artwork. She spent fall term of 2019 studying abroad in Italy, returning home just a couple of months before the country went into lockdown because of COVID-19. And now the pandemic has blocked her from finishing her senior art project, a series of three massive metal sculptures, because she can't gain entry to the campus studio. But if the past year has taught her anything, it's how to look for the positive in life, and she encourages her classmates to do the same: "I know it's going to be hard, and I'm scared too, but I think we (graduating seniors) can also do a lot of amazing things with this. And I think for the world in general, if we band together and learn about the changes that have happened, I think we can do a lot of good."
Once a Beaver, Always a Beaver
OSU is here to support you throughout your career and life. Connect with our Alumni Association and stay in touch!
Please be sure we will be able to reach you. Confirm that your contact details in the MyOSU portal are up-to-date.